Explore the Best Options for Laundry Room Flooring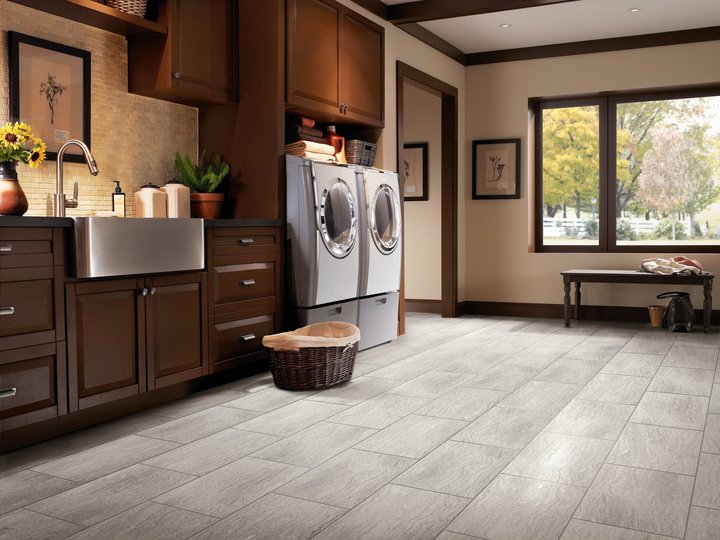 Just because an area in your home is the designated laundry room, doesn't mean that it can't be as stylish or deserve the same aesthetic consideration as the rest of your home. After all, your laundry room may also be where your pets reside and if you have an active family, you may be spending more time there than you realize! Modern flooring technology is so advanced that you can capture the look of your favorite flooring options in easy-to-install, water-resistant formats that will uplift this often-overlooked room. Your washer and dryer are important fixtures in your home, why not select laundry room flooring that you love?
Here are some of our favorites:
Vinyl floors have always been a popular, appropriate choice for laundry rooms. For starters, vinyl options perfectly fit the first two immediate needs of homeowners: it's water-resistant and budget-friendly. Since the laundry room is not the area of the home that we will spend the most time relaxing in or outfitting for a dazzling reaction, it makes sense that we would try to save more of our design budget in this room. A vinyl floor is also inherently resistant to moisture so it's a natural fit to use in case any water from the appliance, pipes or cables should leak onto the floor- which will potentially happen at some point.
These days, homeowners love the combination of design, water resistance, less intensive installation and affordability of Luxury Vinyl Tile or LVT. Products like Invincible™ H2O™ Luxury Vinyl not only gives homeowners high-end, handcrafted designer looks and easy clean-up of laundry detergent spills, but also provide a unique flooring system that locks out liquid and a ceramic-fused finish. In this case, H2O™ Luxury Vinyl even comes with a lifetime protection warranty for wear, fade, stain, gauges, dents and more. LVT is not just only about water resistance: If your washer and dryer are in an area that will see more foot traffic from kids and pets, you may seek out added durability for your room. Luckily, this versatile flooring option has you covered once again.
The premier Invincible™ LVT collection features cutting edge Moistureloc™ Seal, Intensity Surface Shield™, and Superbase™ Construction that won't allow the floor to shrink, expand, curl or gap ever. For even greater realism, bold style and supreme durability, Invincible XT™ Luxury Vinyl Solidcore is the thickest plank available, with extra-long and wide wood-look plank options to create incredible visuals. In addition to the Intensity SurfaceShield™ for durability, 3D Protective Backing gives laundry rooms waterproof protection, sound absorption, and antimicrobial advantages. These styles not only give you more realistic hard surface visuals, but they are also tough as nails while remaining soft underfoot and require no expensive or time-consuming maintenance on your part.
No matter what vinyl format fits your budget and installation needs the best, you will have an easy-to-clean, stain-resistant floor that water, detergent, mud and any other annoying mess-making agent will not harm. On the design front, you can use vinyl tiles to arrange a pattern that will give a laundry room the feel of ceramic tile and natural stone at a fraction of the cost and installation hassle. Vinyl floor tiles are both easy to install and easy to replace should any get damaged over time. If you want the easiest, quickest installation available and have an even, ready-to-go subfloor, sheet vinyl will be a fantastic option to explore.
Laminate is another exceptional choice for laundry room flooring. Highly durable with more realistic visuals than ever, laminate floors are one of the most popular choices as they can be installed either by direct glue down or by floating. Another budget-conscious flooring option, most laminates are also highly moisture resistant and easy to repair if ever compromised. If your laundry area is in the basement, make sure your laminate products can be installed below grade. Also, invest in a waterproof laminate to ensure long-lasting quality.
Ceramic Tile will also work for laundry rooms, with some styles a better fit than others. With vibrant visuals and advanced design technology, BelTerra Tile offers leading looks of wood, stone and travertine. If your home has wood or stone throughout, you can use these styles that match the feel of your entire home while adding moisture resistance, slip resistance and durability for your laundry area. Depending on your expertise you may need to hire installers, but ceramic tile planks help create unique, eye-catching floors that still provide the needed performance.
In the end, there's no need to compromise in creating a fantastic, attractive laundry room. As one of the hardest-working rooms in your home, you just need to make sure your floors can stand up to water, soil, and mud while remaining easy to clean. Now those grass stains on the school clothes? That solution is up to you! For your floors, come see the flooring experts at Carpet One Floor & Home to create a space that will always remain impressive.